Credit For Comfort Is A Free App That Enables HVAC Contractors To Offer Paperless Financing
Increase Your Ticket. And Close More Deals Using A Single Customer Application That Works On Any Device
Increase your average ticket and close more deals using a single customer application that works on any device. Your customers can complete their information once and get approved in minutes while enjoying multiple financing choices including prime, second look, PACE and commercial financing, all at the most competitive rates. Providing multiple choices to suit your customers' needs allows you to get more yeses for more closings and larger deals. Present your company in a professional fashion and make it easy for your customers to purchase from you with Credit for Comfort.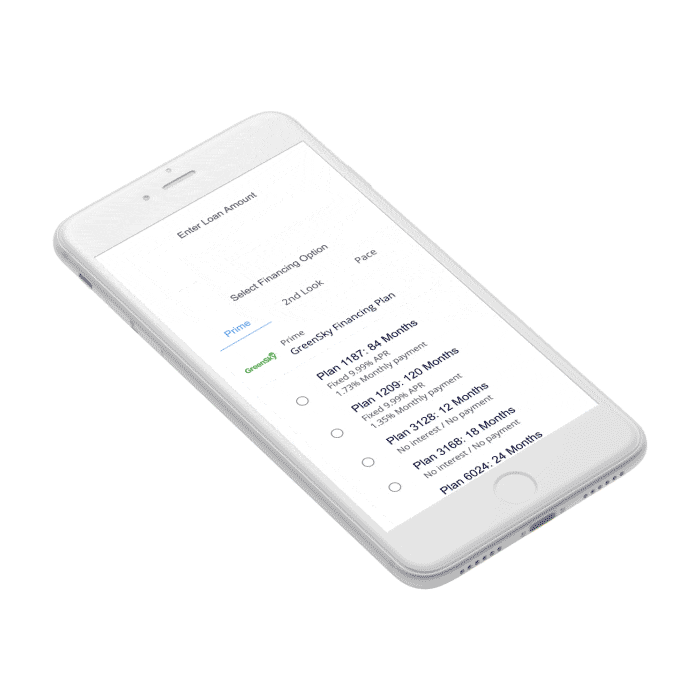 Benefits to HVAC/R Contractors
Credit for Comfort provides your residential and commercial customers with flexible and affordable financing in one app. Our integrated Prime and 2nd Look financing options can ger you more approvals and higher ticket sales under a single application.
check
Residential and Commercial Financing options under one app
check
100% paperless single customer application
check
Competitive rates with fast approvals
Increase Your Ticket and Close More Deals
Offer your customers Prime, 2nd look, commercial and PACE financing options under a single application so you can close more deals.
attach_money
Competitive Rates
Choose from a wide range of plans and select the ones that work for your business
list_alt
Single Customer Application
Fill out your customer's information once and get approved in 90 seconds or less
account_balance
More Financing Options
Offer multiple financing choices to fit your customers' individual needs allowing you to get more yeses
link_off
100% Paperless
Forget application paperwork. With Credit for Comfort, the entire application process is done online
Our Lending Partners
Green sky - Prime
Choose from fixed rate installment loans with low payments and promotional plans with no interest and no payments during the promotional period.*
*Subject to credit approval. Interest is billed during the promotional period but all interest is waived if the purchase balance is paid in full before the expiration of the promotional period
Fortiva - Second Look
Choose from a wide range of competitive plans that fit both your customers' and your business needs.
Ygrene - PACE
Non-credit based PACE (property assessed clean energy) financing with no minimum FICO score required and eligibility based on home equity.*
*Only available in CA, FL & MO
Marlin Capital
Flexible financing for commercial customers, same day approvals and no merchant fees.
About Credit for Comfort
Credit for Comfort provides your customers with flexible and affordable financing in one app. Our integrated Prime and 2nd Look Financing options get you more approvals and higher ticket sales under a single application